Monday's Daily Pulse
What you need to know about Florida today
Florida struggling to find lawyers for its opioid lawsuit
Attorney General Pam Bondi has spent months searching for a law firm to take on the opioid industry. She's not getting any help from an 8-year-old state law that caps the fees for lawyers she hires. Because of the cap, some of the state's top lawyers didn't bother to apply to represent Florida in a potential lawsuit against opioid makers and distributors. More from the Miami Herald and the Tampa Bay Times.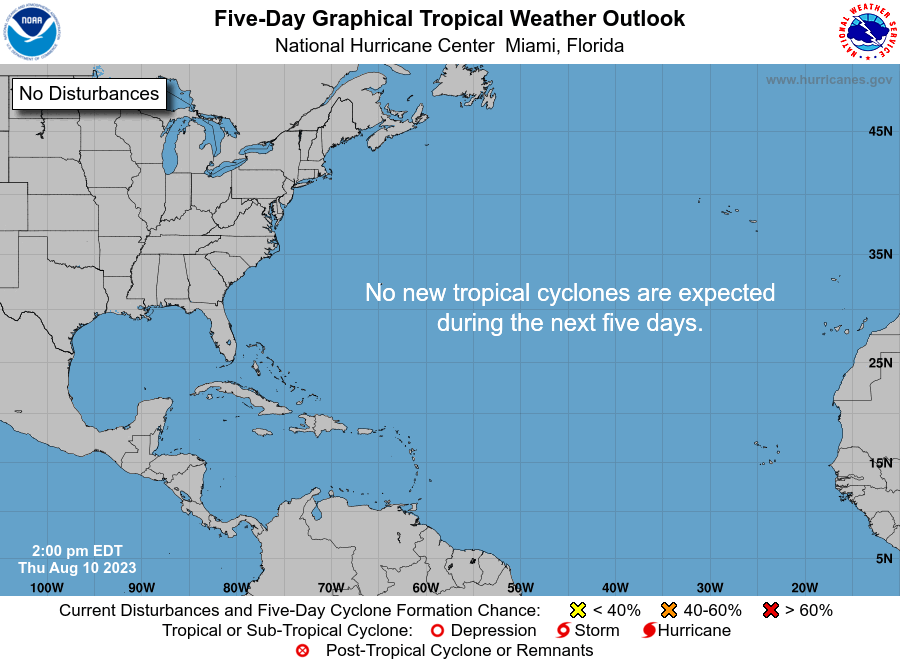 Disturbance being investigated in the Gulf of Mexico.
National Hurricane Center watching area in the Gulf of Mexico
Clouds, showers and thunderstorms in the southeastern Gulf of Mexico could strengthen into a tropical or subtropical storm affecting Florida in the next few days, National Hurricane Center forecasters predicted Sunday. More from the Tampa Bay Times, the Miami Herald, and WPTV.
60th Anniversary Special Report
Six Floridians to watch
From a NASCAR executive to an environmental activist, we profile six Floridians you should keep your eye on. Take, for example, Alexia Carrasquillo. Earlier this year, before she turned 12 verbally, Carrasquillo committed to play softball at the University of Florida — the youngest athlete ever to commit to a major university. Full story here.
Ag interests spread cash in cabinet race
From farmers to horse trainers, agricultural interests put up more than $100,000 in April to support three candidates running for Florida agriculture commissioner, with U.S. Sugar Corp. accounting for $30,000, new finance reports show. More from the Lakeland Ledger and NorthEscambia.com.
In Cuba, the great American tourism boom goes bust
During the first three months of this year, 95,520 Americans came to Cuba - a 40 percent drop from the same period last year, hurting this island's access to hard cash and setting back the effort to reestablish ties between U.S. citizens and Cubans. [Source: Washington Post]
ALSO AROUND FLORIDA:
› Top Florida law firm fights accusations of stiffing rich client and bribing witnesses
Never shy of the spotlight, William Scherer has stood out for decades among South Florida's elite lawyers. But for all its apparent success, the venerable Fort Lauderdale law firm of Conrad & Scherer is under siege.
› Column: Jacksonville remains Florida's cigar capital
Tampa has long marketed itself as the Cigar City. Key West promotes itself as once being known as the "Cigar Capital of the World." While Jacksonville continues to ponder if it even has an image, the city has an even better claim to being a cigar capital.
› FAU's Tech Runway® welcomes 7 startups into latest venture class
Florida Atlantic University has revealed its largest class of 21 winners for their Tech Runway® this year. The winners were announced during the awards ceremony on May 10, with the top seven each receiving a $15,000 check, totaling $105,000 in cash investments. The South Florida companies will be provided space at Tech Runway® and enter its year-long entrepreneurial program. Also read more at the South Florida Sun-Sentinel.
› Pinellas and Hillsborough bring in $13 million in bed taxes during peak travel month
Pinellas and Hillsborough counties posted record-breaking bed tax collections over a peak tourism period, raking in a combined $13 million in March. It's the first time Hillsborough collected more than $4 million during this period, a new benchmark for Visit Tampa Bay, the tourism nonprofit that markets the area.
Go to page 2 for more stories ...
In case you missed it: